Blueprint for Employers – new and improved!
Blueprint for Employers is health plan information at your fingertips
Blueprint for Employers is new and improved!
Blueprint for Employers is a secure, self-service website that gives employers the tools and resources they need to oversee their health plans. All at no cost.
The new, streamlined design and enhanced usability makes managing your plan easier and more customer-friendly.
With Blueprint for Employers, you can:
Access and manage your plan from any device – even smartphones and tablets
View your member listing
Quickly order new ID cards or print temporary ones
Submit electronic change requests*
Pay your bill*
Don't have Blueprint for Employers?
Registration is easy. The Blueprint for Employers enrollment form is available at blueprintforarkansasemployers.com. Select Register and complete the short form. Follow the instructions to submit your enrollment form.
Once you're officially registered, check out all the tools and resources available to help you oversee and administer your company's health plan.
If you'd like to share information about Blueprint for Employers with colleagues, just share this blog post or send them this informational Blueprint for Employers PDF flyer.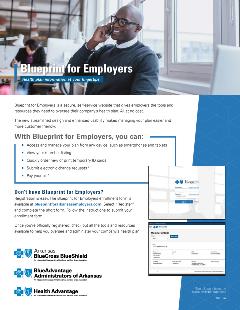 * Not all users have the same available functions.