FREE Webinar: COVID-19 — What Can Your Company Expect?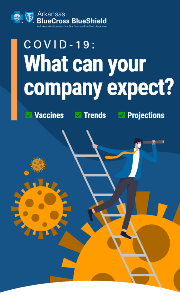 Arkansas Blue Cross and Blue Shield is hosting a free webinar at 1 p.m., Tuesday, February 9, 2021, to discuss COVID-19 hot topics, such as the vaccine and vaccination financing, long-term health trends that may affect your employees, return-to-work best practices and more!
Register today and join us for an employer-focused COVID-19 webinar.
Subject-matter experts from Arkansas Blue Cross will cover relevant subjects like:
Where we will be in 30, 90 and 180 days?
How will the vaccines be paid for?
How will COVID-19 affect long-term utilization and costs?
Getting your workforce back to work?