New options on value-based enrollments
There are now two ways to initiate value-based enrollments (VBE) for your Medicare Advantage clients.
Here is a breakdown of the two VBE paths:
At the time of enrollment
While finalizing a Medicare Advantage enrollment, you will be reminded to initiate a value-based enrollment. You will be prompted to request that a wellness advocate call your member or schedule a call for a later time. You must be logged in to receive a credit for facilitating your client's connection with a wellness advocate.
Here's what that will look like in the Ascend platform: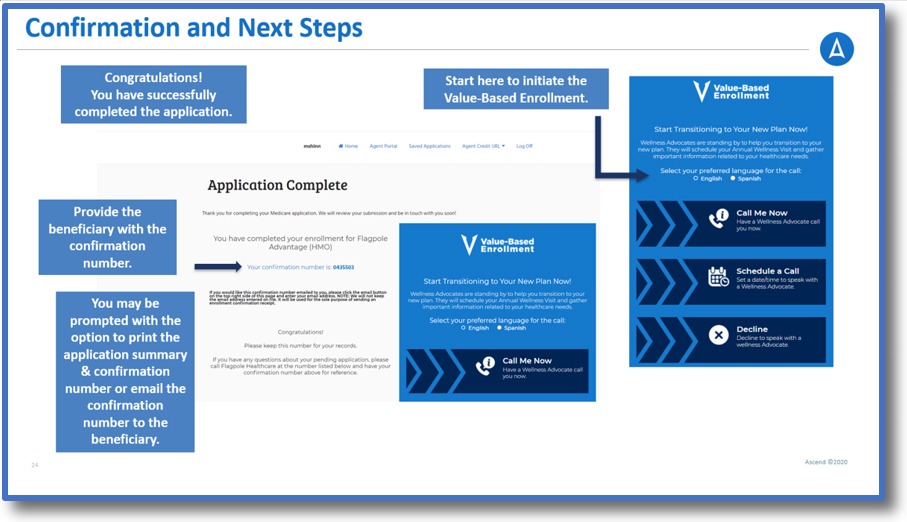 After the enrollment – NEW
You now can access a special page on the Arkansas Blue Medicare website (https://arkansasbluemedicare.isf.io/vbe/addmember) any time after an enrollment is submitted and fill in some information to schedule the VBE.
Here's how that page looks:
Just enter the member's details. Then you will be prompted to select an initiation method (requesting a wellness advocate call your member immediately or scheduling a call for a later time, etc.)
Note: Enrollments submitted via Ascend, Medicare Link or the Medicare app can follow this process. The confirmation number from your agent portal should be entered for the enrollment ID. And since you're logged in, there's no need to enter the agency information.
As always, if you have questions, help is as close as your Arkansas Blue Cross representative.
Thanks again for all you do on behalf of your clients and Arkansas Blue Cross and Blue Shield.