Individual FFM training for plan year 2022 now available
The Federally Facilitated Marketplace (FFM) training is now available for returning agents and brokers!
After completing the required FFM training, you can use PinPoint to track FFM completion and complete required product training. Also, you can renew your Arkansas Exchange Producer License.
Please see our previous blog article here on how to access PinPoint and register for an individual product Zoom training.  We encourage you to attend one of our Zoom meetings, where we will take a deeper dive into our training material.
How to access FFM Training
We will check the FFM completion list daily and update this course as complete (beginning September 7, 2021) for any agent who is on this list and registered with PinPoint.
Accessing online training: To access the training module, visit the CMS portal. If you have trouble logging in or have been locked out, you can call the CMS support desk at 855-267-1515, and they will reset/unlock your account. Many of you will need to do this, as passwords must be changed every 60 days. Arkansas Blue Cross is unable to help resolve these issues. Once you've accessed the CMS portal, choose one of two training vendors. The Marketplace Learning Management System (MLMS) is free. No continuing education units are offered with this vendor, but it will satisfy your Arkansas Blue Cross certification requirements.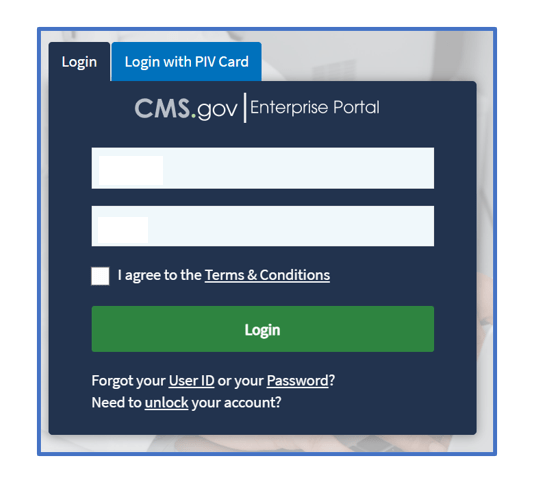 Select Marketplace Training – Agent Broker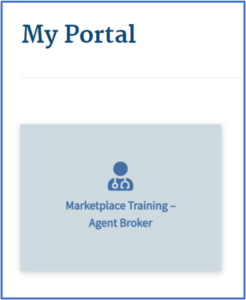 Select MLMS Training to access the Marketplace Learning Management System (MLMS).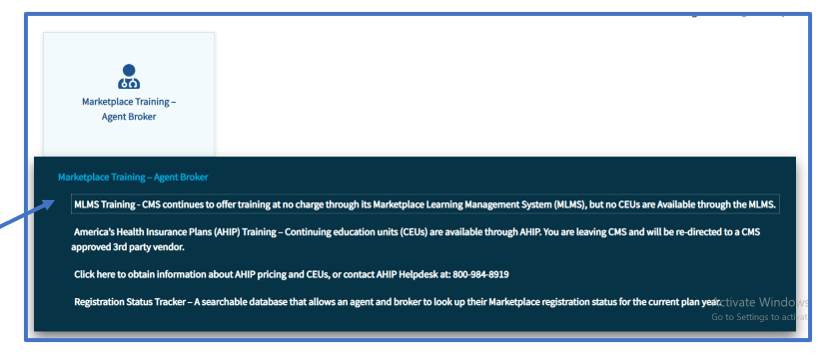 FFM training: You will not satisfy this requirement and cannot market or sell 2022 products until your National Producer Number (NPN) is on the FFM Completion List for 2022. Arkansas Blue Cross will check this list every business day, but it may take one to three business days to see your completion status reflected on your PinPoint dashboard. Your NPN must be on the list before you can be renewed for 2022. The process for checking whether the FFM shows you as complete is detailed below.
Exchange Producer License
You must complete the FFM training before renewing your Exchange Producer License, and we recommend you wait one business day after completing the FFM certification. The Arkansas Insurance Department cannot process your renewal application until they confirm you have completed your 2022 FFM training. They check the same list that we do to confirm you have completed your FFM training.
All Arkansas Exchange Producer licenses are set to expire at the end of September, so it is imperative that you are proactive in renewing this license. Arkansas Blue Cross will not be able to renew your individual U-65 appointment unless this is renewed. Detailed instructions on how to renew your 2022 exchange producer license are outlined in the next section.
Detailed Exchange Producer License Renewal
Start at the National Insurance Producer Registry (NIPR) site.
Select Renew and then Resident Licensing Renewals.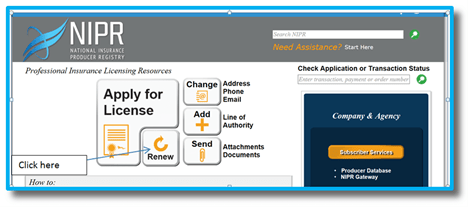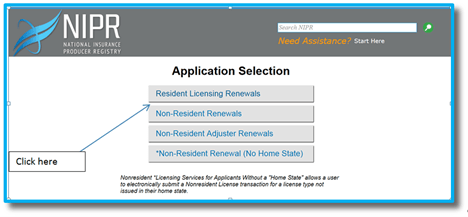 2.  Select Arkansas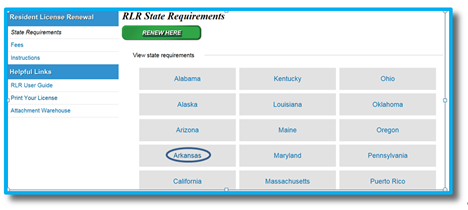 3.  Choose the green Renew Here button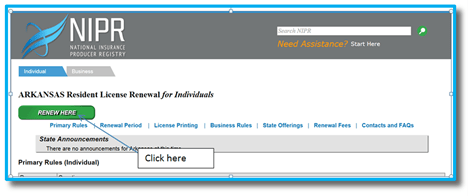 4.  Enter your last name and NPN and then select Next after accepting the NIPR Use Agreement.

5. Select Start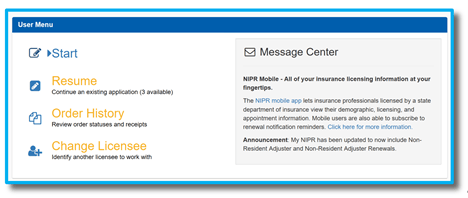 6. Select what you want to do (as shown below) and select Next.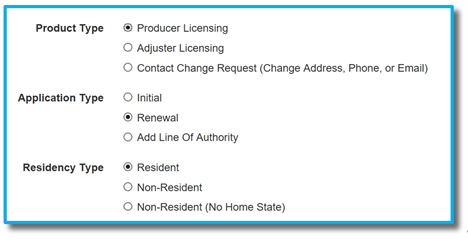 7. Select Arkansas and select Next.

8.  Select Exchange Health and then select Next.

If you have trouble, call NIPR Support at 855-674-6477. Arkansas Blue Cross support staff are unable to help.
9.  Review the fee estimate.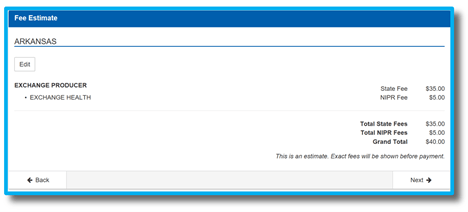 10. Begin your application by clicking on Biographic Data, and the system will take you through all the sections listed below.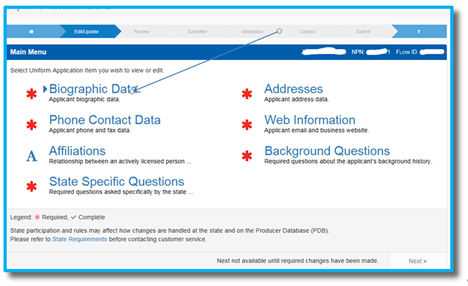 Once finished, it will look like this: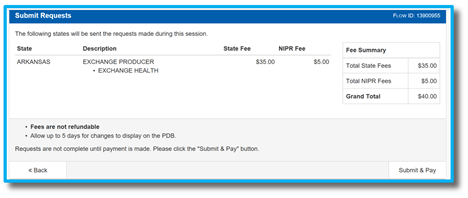 Your renewal application will begin processing. For most, the only verification to be done by the Arkansas Insurance Department is confirmation that you have completed the FFM training for 2022. They will check the same FFM completion list illustrated above.
After your Exchange License is renewed by the Arkansas Insurance Department, it will be reflected on the National Insurance Producer Registry (NIPR) Producer Database (PDB). PinPoint will check for completions on a nightly basis, so within one or two business days of approval, this will be marked as complete within your PinPoint portal.
Thank you for all you do for Blue!