Livongo® – a new tool to manage diabetes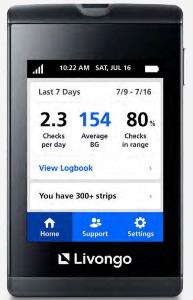 Medicare Advantage members now have access to this free resource
Your Arkansas Blue Medicare clients and prospects now have a powerful new tool to help them manage diabetes – and it's totally free to them.
Livongo® provides eligible members a simple, advanced blood glucose meter and all the test strips and lancets they need, all for free.
The Livongo program gives members:
Personalized tips with each blood glucose check
Optional family alerts to keep everyone in the loop
Real-time support when they're out of range
The ability to send data directly to their doctor
Capacity to use the meter to reorder strips
Freedom from paper logbooks (thanks to automatic uploading)
Signing up for Livongo is easy
Members who qualify may register on the Livongo website (www.livongo.com) or call 800-945-4355 and use the following code: ABCBS.
The first step is to provide some basic information. Then a Livongo coach will call the member to complete the enrollment.
Once the enrollment is completed, a welcome kit should arrive at the member's door in 3-5 business days.
The meter comes ready to use. Enrollees simply stick a strip into the meter, do their first check … and they're off.
If you have clients/prospects who might benefit from this value-added benefit of being an Arkansas Blue Medicare member, please feel free to share this information with them or provide them with this PDF flier about Livongo.
Disclaimer: Livongo Health is an independent company that contracts with Arkansas Blue Medicare to provide diabetes-management programs for selected members.